The Denver Broncos and Atlanta Falcons each invested in the running back position during free agency with the signings of Melvin Gordon and Todd Gurley.
Denver reportedly gave Gordon a two-year, $16million deal after five seasons with the San Diego/Los Angeles Chargers.
Atlanta did not use as much of their salary cap space on Gurley, signing him to a reported one-year, $6m contract.
Both marquee names, Denver and Atlanta will each be hoping the acquisitions can provide an injection of quality into their respective ground games.
However, both were well short of their best in 2019 and their numbers reflect that.
DENVER BACKS IN DECLINE
Gordon held out in search of a new contract from the Chargers last season and missed the first four games of 2019.
His output only served to further vindicate the Chargers' decision not to bow to his demands.
After averaging 5.06 yards per rush in 2018, Gordon ran at 3.78 yards per attempt in 2019.
According to Stats Perform data, his drop-off was the biggest dip in yards per rush from a running back to have had at least 150 carries in each of those seasons.
Worryingly for the Broncos, Phillip Lindsay – an undrafted free agent gem who starred in 2018 – was fourth on that list. His average dropped from 5.40 yards to 4.51.
TODD'S DOWNWARD TRAJECTORY
A knee issue derailed the back end of a 2018 season in which Gurley reached the Super Bowl with the Los Angeles Rams.
By the postseason Gurley was scarcely on the field and looked a shadow of his former self when he did earn playing time.
There was no sign of a revival in 2019 as the Rams missed the playoffs.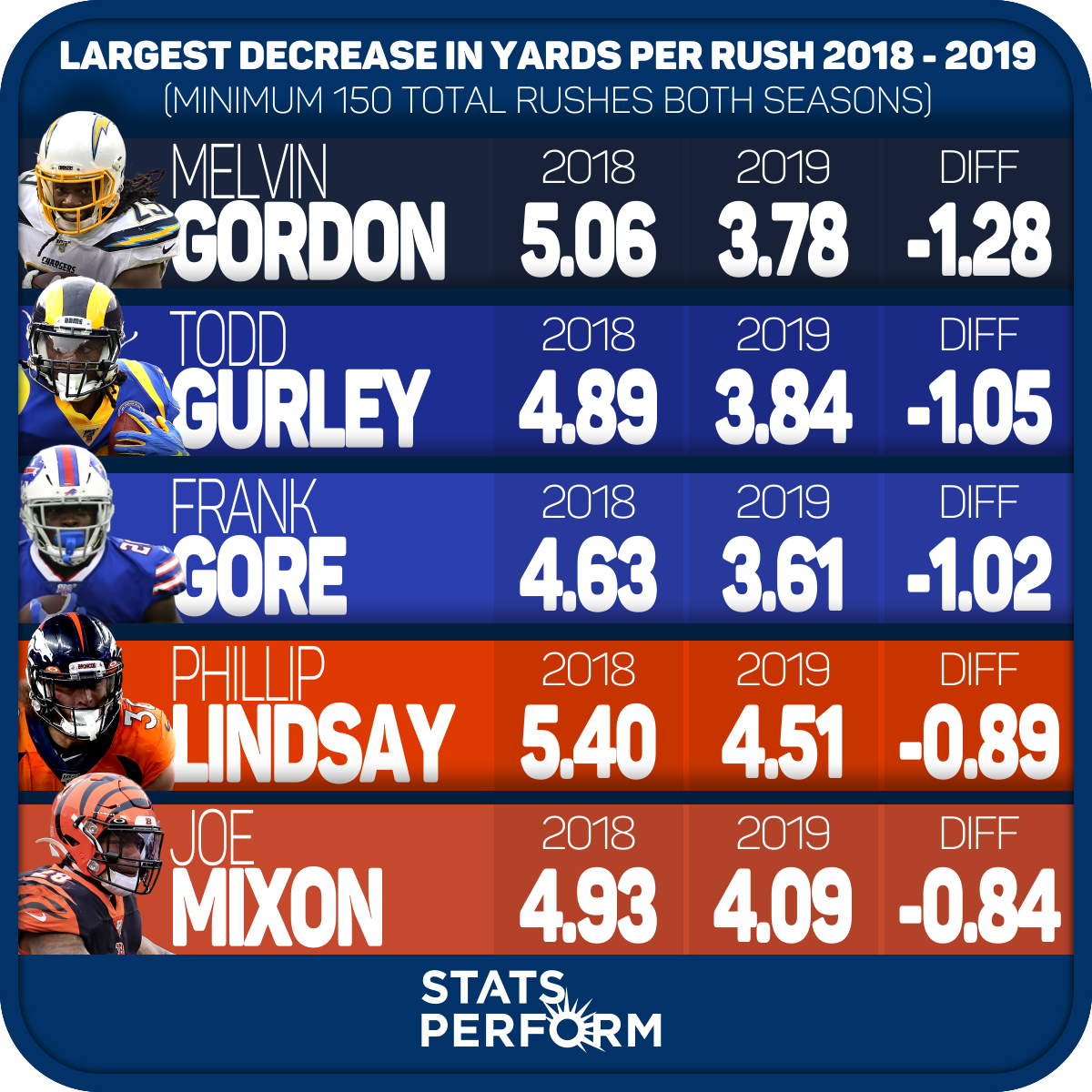 Indeed, Gurley was second on the list for the largest dip in yards per attempt from 2018 to 2019. His average went from 4.89 yards to 3.84.
He did not have a single 100-yard rushing game in 2019, with his longest run a mere 25 yards.
Could a return to familiar scenery bring about a revival?
A GLORIOUS HOMECOMING?
Gurley came into the NFL in 2015 after a stellar collegiate career at Georgia.
By joining the Falcons, he will be going back to the state where he made his name and his history suggests he will be an upgrade on what the Falcons have had at the position in the past.
He has 70 touchdowns in his pro career. The second-most in NFL history for a player aged 25 or younger behind the great Emmitt Smith (75).
Having played 73 games in his career, Gurley's rate of 0.96 touchdowns per game is the second-best all-time, for those who have played at least 50 games, behind Jim Brown's average of 1.07.
The Falcons running backs – which included the likes of Devonta Freeman and Tevin Coleman, though both have now moved on – have not come close to matching his production in recent years.
Get used to it. pic.twitter.com/XXnlQDdTM2

— Atlanta Falcons (@AtlantaFalcons) March 20, 2020
Gurley has three seasons with 1,000+ rushing yards (2015, 2017, 2018).  The Falcons have only had two such seasons from their running backs since 2012, both coming from Freeman (2015, 2016).
Additionally, since 2017, Gurley has averaged more yards per carry than the Falcons backs – 4.5 to 4.2, scored more rushing touchdowns – 42 to 29, and ran for nearly 82 per cent of their total rushing yardage by himself. Gurley has 3,413 yards in the last three seasons while the Falcons backs have 4,166.
Gurley also has 24 rushing plays of 20 yards or more since 2017. The Falcons have just 31 as a team.
All those signs point to Gurley being an improvement on what the Falcons have had at running back in recent years. For him to realise that possibility, however, he will need to reverse a trend that makes his signing look a very questionable one.