It did not take long for Thiago Alcantara to show the Premier League exactly what he can do on his Liverpool debut.
The new Reds midfielder, signed just two days before the trip to Chelsea, came off the bench at half-time at Stamford Bridge on Sunday.
Champions Liverpool ran out 2-0 winners against the Blues' 10 men, with Thiago quickly finding his passing rhythm in the centre of the pitch.
Opta shared after the match that Thiago had completed 74 passes, more than any other Premier League star when playing a half or less since detailed passing data began in 2003-04.
But there was more to the former Bayern Munich man's bow than that one statistic, as Opta's advanced metrics allow us to explore…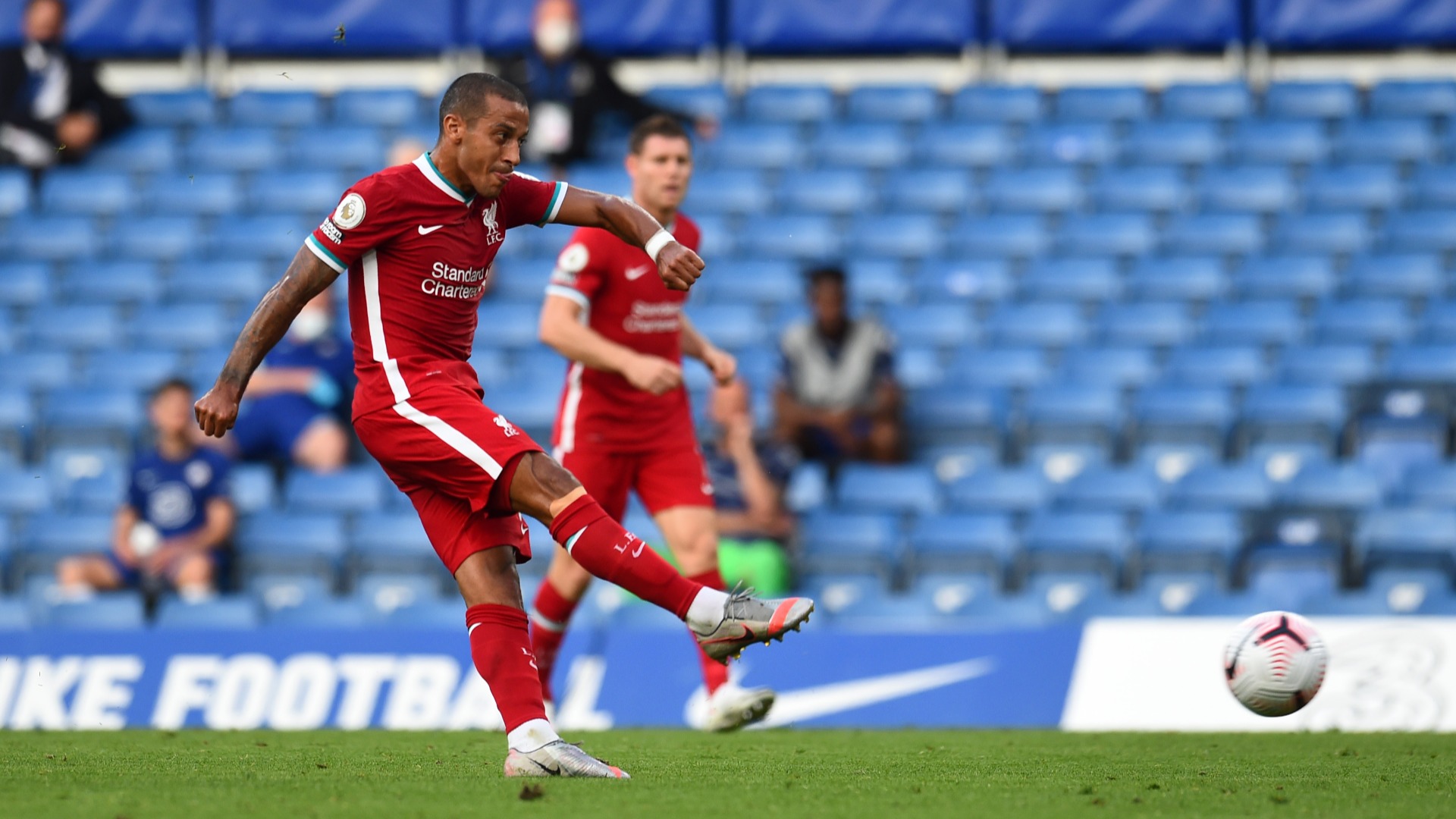 STANDOUT STAT TOPS SCHOLES
The list of other players to have managed 60 or more passes in 45 minutes or fewer in the Premier League shows just how impressive Thiago's achievement was.
Andreas Christensen (66 passes) – for Chelsea against Sheffield United in July – is perhaps a slight surprise in second place, as is Jose Fonte (62) – for Southampton against Bournemouth in 2015 – in third. But the rest of the names in this elite group are far more predictable.
Paul Pogba is one of three players to have tallied 61 successful passes in such a cameo, doing so after replacing Scott McTominay in Manchester United's 4-1 win over Newcastle United on Boxing Day last year.
The other two stars to reach the number did so in quite staggering circumstances, meanwhile.
Yaya Toure and Paul Scholes each totalled 61 passes in significantly less than a half, the Manchester City man incredibly playing only the final 17 minutes of a 7-2 win at home to Stoke City in 2017.
United pass master Scholes was on the pitch for a little longer – 28 minutes – as he helped Alex Ferguson's side to clinch a record-breaking 19th title at Blackburn Rovers in 2011.
Coincidentally, as City stole that crown 12 months later, Toure played 60 passes in the first half against Queens Park Rangers despite battling a hamstring injury.
Thiago's feat, while perhaps not quite as impressive as Toure's or Scholes', puts him in esteemed company just 45 minutes into his Premier League career.
ALREADY LEADING LIVERPOOL
That final tally of 74 successful passes from 82 attempts was more than any Chelsea player managed in the entire 90 minutes on Sunday. But some of Thiago's numbers also led a dominant Liverpool team.
The Spain international attempted 63 passes in the opposition half and completed 56 – both numbers were the most of any individual at Stamford Bridge.
The contrast from the first half with captain Jordan Henderson was evident, as the man Thiago replaced attempted 24 passes in this regard and completed just 16 – albeit one failed effort prompted Christensen's red card.
Henderson and 86th-minute substitute Takumi Minamino were the only visiting players not to complete 20 passes in the Chelsea half, while Mateo Kovacic – 14 of 16 attempts successful in Liverpool's half – was some way short as the hosts' top performer.
No team-mate could rival Thiago, though.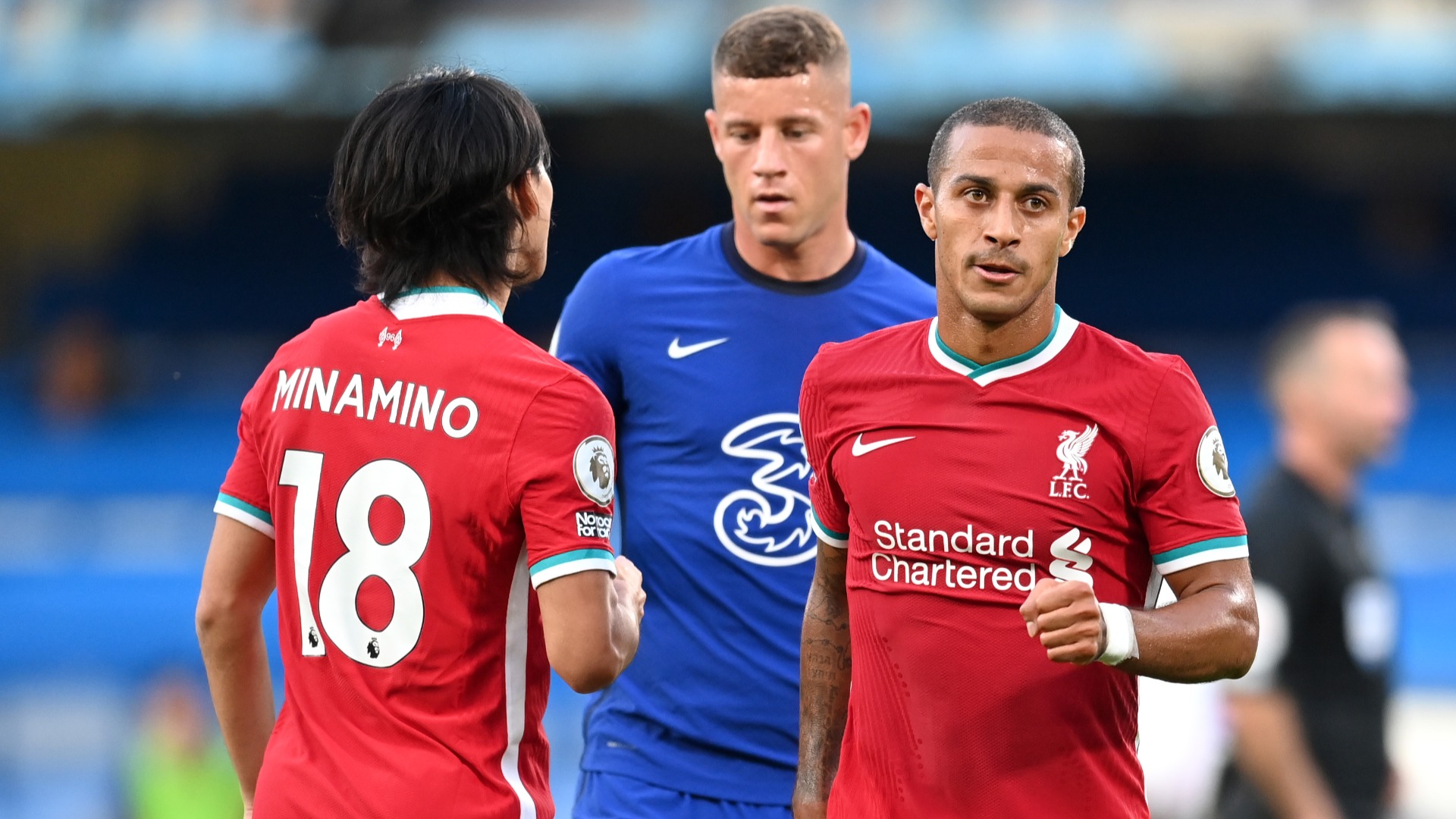 NO GOALS, NO ASSISTS, NO PROBLEM
Despite his control of the game, Thiago's passes were unlikely to appear on highlight reels of the Liverpool victory. Yet Jurgen Klopp knew what he was getting.
"I liked it, I liked his game a lot," the manager told Sky Sports. "Defensively was tricky for him because we set it up differently, but offensively, with the ball, yeah, that's him. He wants to pass the ball."
Goals and assists are not really Thiago's game. He trailed Henderson in both regards in his final season in Germany.
But the midfielder is found at the heart of almost any move, having been involved in 141 sequences that led to a shot for Bayern last term.
Thiago played a part in the build-up to five open-play shots on Sunday, including the first goal as he traded passes with Sadio Mane and then pushed the ball on for Naby Keita to switch the attack to the right flank.
Indeed, no player made more forward passes in the opposition half than Thiago's 25, while the variety of his balls opened up the pitch as he completed a game-high 10 long passes.
Liverpool fans will now be relishing the opportunity to see what their new man is capable of over a full 90 minutes – potentially starting against Arsenal on Monday.