Dominic Calvert-Lewin has made an electric start to the 2020-21 Premier League season.
The striker has scored four goals in Everton's opening two games, following up the winner at Tottenham with a first career hat-trick against West Brom last weekend.
Eyebrows were raised in some quarters when Calvert-Lewin was linked with Manchester United during the close season, but if he continues in the same vein then further links to elite clubs will surely follow.
Everton boss Carlo Ancelotti does not think the 23-year-old's performances are a flash in the pain, pointing to former Milan star Filippo Inzaghi – a prolific goalscorer despite clear deficiencies in a lot of other departments – as an example for Calvert-Lewin to follow.
"I had a fantastic striker in Inzaghi, who scored 300 goals and 210 with one touch," said the former Milan coach last week.
"A striker has to be focused in the box and I think Calvert-Lewin understands really well because in the box he has speed, he jumps really high, he has power. Where he has improved more is there, in the box."
Using Opta data, we compare Calvert-Lewin's Premier League performances this season to his first one under Ancelotti.
Fox in the box
While this season may only be two games old and he failed to score during 45 minutes on the pitch against Fleetwood Town in the EFL Cup on Wednesday, there has been a clear shift in the way Calvert-Lewin is playing.
During the 2019-20 Premier League season he tended to get a greater share of his touches on the right wing in the attacking half, with only 10 per cent of his touches coming in front of goal.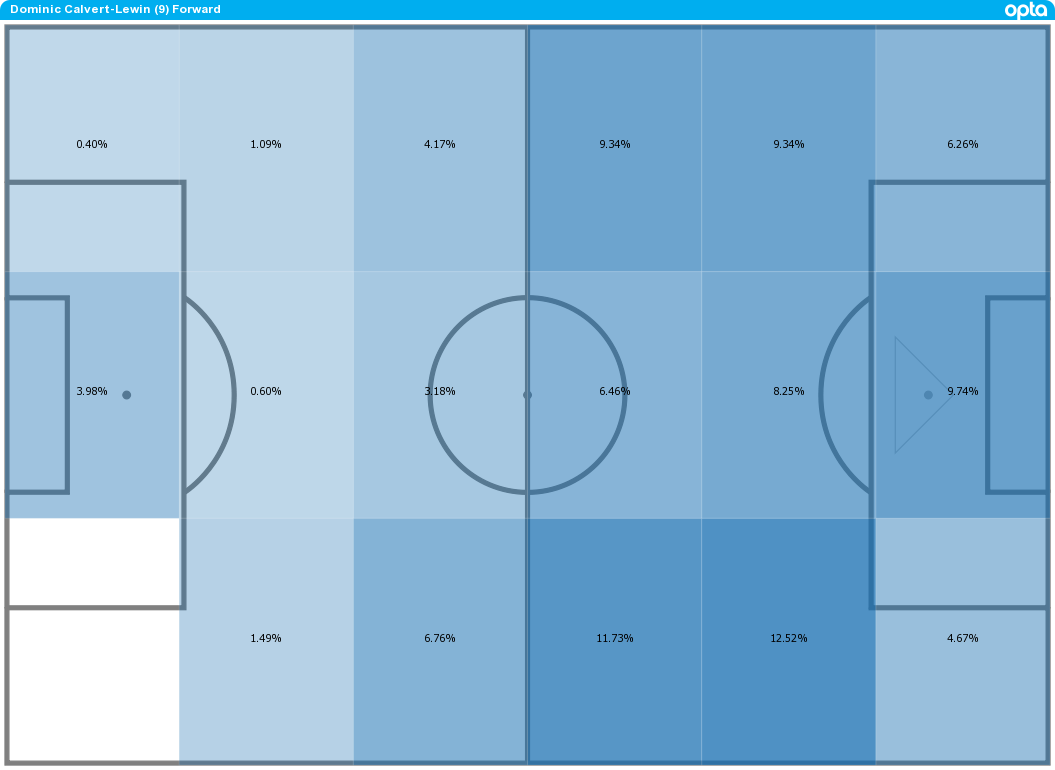 While he has still been getting involved from the right flank this season, the centre of the opposition's box has seen the greatest proportion of his touches.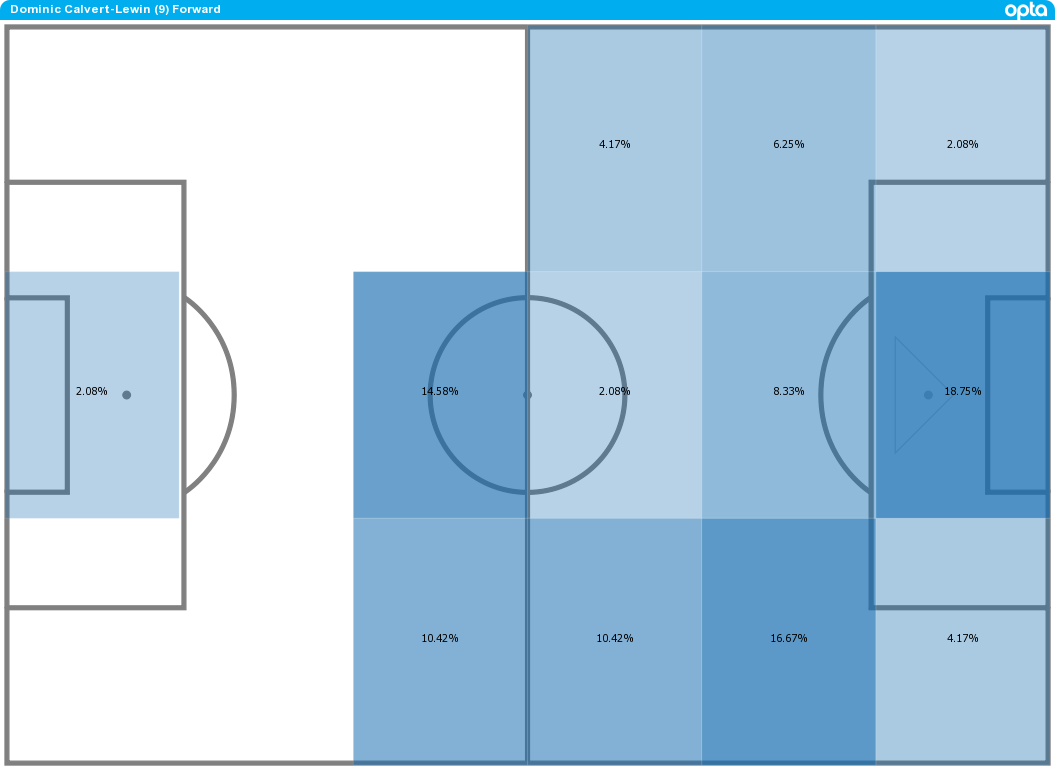 His touches per 90 minutes may have dropped to 27 from 34.4, but a greater proportion of them are coming in the opposition box than last season (an increase to 19 per cent from 14 per cent).
It may be a small sample size, but it appears there is clear intent for Calvert-Lewin to affect things in the most dangerous area.
Shooting boots
Given he has become a greater presence in the area, it is perhaps unsurprising he has attempted more shots per 90 minutes this season (4.5) than he did in 2019-20 (2.9). Furthermore, all of his attempts this term have been from inside the box, compared to 87 per cent in the previous campaign.
Calvert-Lewin is also being more clinical.
In the Premier League last season he found the net 13 times and had an expected goals of 15.32, meaning he scored 2.32 goals fewer than would have been expected. In 2020-21 he has scored four goals despite having an xG of 2.68.
The season may be young, but Calvert-Lewin is showing signs that he is developing into a serious threat for Everton.
3 – Dominic Calvert-Lewin (23y & 187d) is the youngest Englishman to score a top-flight hat-trick for Everton since @TonyCottee9 (23y 47d) vs Newcastle in August 1988. Clinical. https://t.co/VRqrkqxAJ1

— OptaJoe (@OptaJoe) September 19, 2020