Pierre-Emerick Aubameyang's slow start to the 2020-21 Premier League season has provided Arsenal with cause for concern, but their attacking problems run deeper.
There was plenty of positivity when Arsenal began their campaign with a 3-0 win over newly promoted Fulham and Aubameyang signed a new three-year contract at Emirates Stadium the following week.
However, since then the 31-year-old attacker has gone five league games without scoring, for the first time since November 2014 when he played for Borussia Dortmund, and the Gunners have been defeated three times.
Those losses came against teams that finished last season in the top five – Liverpool, Manchester City and Leicester City – and on Sunday they face another team from that group in the form of Manchester United.
Mikel Arteta has acknowledged Arsenal have significant strides to make in the attacking department, last week urging his team to provide Aubameyang with more opportunities and dismissing the suggestion that his preference for playing the Gabon international from the left wing was to blame for his lacklustre start.
"He needs to get in more goalscoring opportunities, he needs to get the ball more in the box to do what he needs to do," said Arteta.
"Always the question when he doesn't score is, 'Why doesn't he play as a nine?'. Then you move him to the nine and it's, 'Why did you not keep him on the left because he has been so successful from the left?'. This will happen, I know."
Decreased involvement
The season may only be six games old, but so far it is proving to be comfortably Aubameyang's worst in the Premier League.
Per 90 minutes, his shots (1.3), shots on target (1.0), expected goals (0.07), touches (35.3) and touches in the opposition box (16) are his lowest for a campaign in the English top flight.
Among the 38 attackers to have played a minimum of 300 minutes this season, Aubameyang's cumulative xG of 0.43 ranks 33rd – a value that was matched by Gareth Bale in his 18 minutes on the pitch for Tottenham against West Ham last week.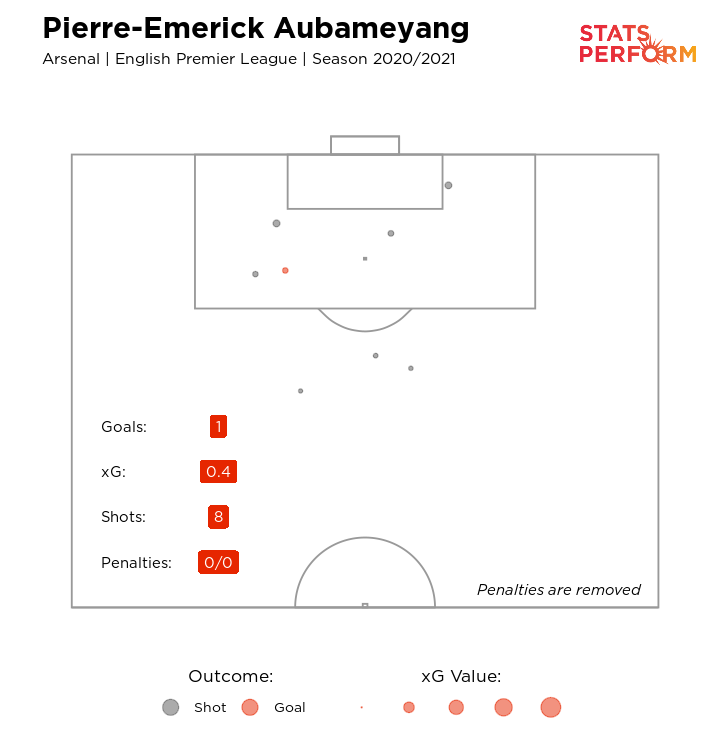 There was perhaps a sign that this was coming, given Aubameyang's haul of 22 Premier League goals last season came from chances that had an xG of 14.75.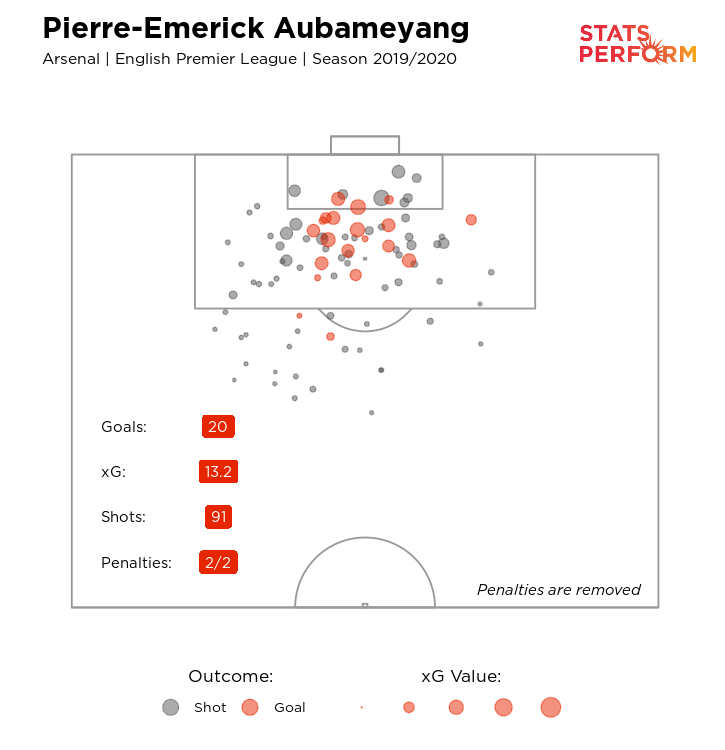 Would Ozil help?
In short, no.
Last season Aubameyang's most productive relationship in the Premier League was with Nicolas Pepe, who created 13 chances for him – more than double the next highest contribution of Bukayo Saka with six – and set up three of his goals.
Furthermore, in Aubameyang's 38 Premier League starts alongside Mesut Ozil his cumulative xG stands at 19.5. When the German does not start, his xG increases to 24.2.
Ozil only created four chances for Aubameyang last season – none of which ended in a goal.
A team-wide issue
It is clear a decline in Arsenal's attacking output as a whole is restricting Aubameyang's productivity.
The Gunners have averaged 8.8 shots per game in the Premier League this season, comfortably their fewest since at least 1997-98 – they have had four campaigns since then where their tally has been at least twice as high. It is the continuation of a downward trend for Arsenal, with their shots per game having slipped from 15.6 in 2017-18 to 12.3 and 10.7 over the subsequent two seasons respectively.
With the Gunners having only scored eight times in their six top-flight matches so far, they have a goals-per-game ratio of 1.33. That represents comfortably their worst mark in 25 years, with the only seasons in which they had a lower figure being their first four in the Premier League era.
The pressure is on for Arteta to remedy the situation quickly if Arsenal's hopes of securing a return to the top four are not to fall by the wayside.