Just under a month ago, Manchester City excitedly announced Pep Guardiola had extended his contract with the club until 2023, but the news was curious in that the response from supporters and media alike was somewhat muted.
While the fact it was only a new two-year deal may have contributed to that, with respect to fans there seemed to be trepidation as to whether Guardiola was still getting the results – stylistically as well as wins – many expected.
Although some will have dismissed the signs of City turning stale as natural by-products of a turbulent year for the sport, others undoubtedly began to voice concern at City's performances and the lack of intensity Guardiola's team have shown.
And City have arguably got worse since the news of his extension broke – their four wins in the past nine games across all competitions have been against Olympiacos, Burnley, Fulham and Marseille.
They lost to title hopefuls Tottenham and produced largely insipid displays against Manchester United and West Brom.
City will end the weekend 11 points adrift of the summit if they lose to high-flying Southampton and Liverpool beat Crystal Palace – something is not right at the Etihad Stadium.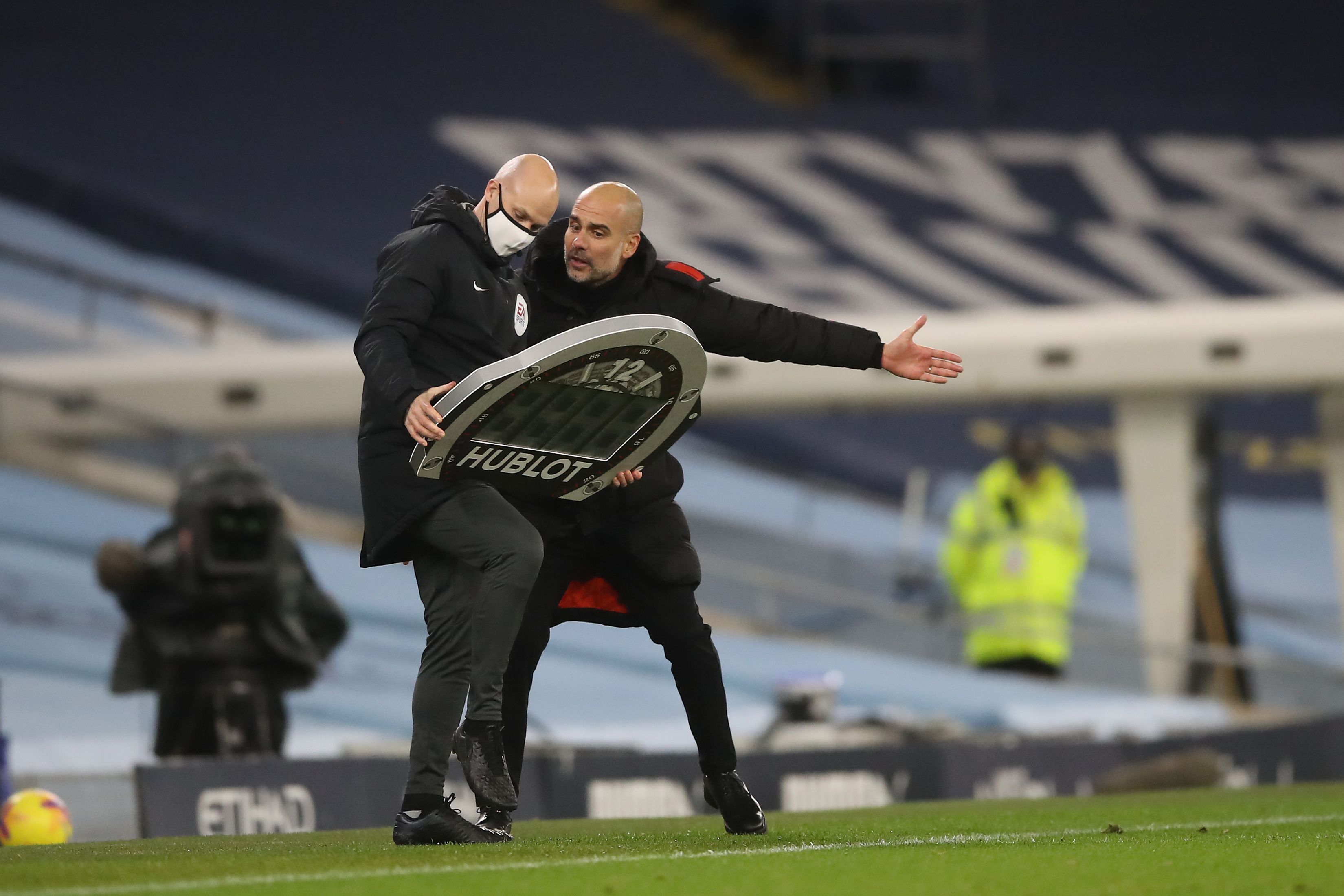 IMPOTENT CITY
In 2019-20, many put the 18-point deficit between champions Liverpool and City down to the latter's apparent defensive frailties, though in reality they only conceded two more goals than the Reds.
Nevertheless, City bolstered their backline with Ruben Dias and Nathan Ake, and although still by no means perfect, their 12 goals conceded this season is the joint-best in the division with Tottenham.
However, perhaps they would have been better off diverting some of that transfer focus to the attack. As Opta data shows, there is little doubt where their problems lie this term.
Firstly, City's haul of 18 goals from their first 12 league matches is by far their lowest under Guardiola and almost half the 35 they managed by the same point last term.
The most recent season where they had a worse scoring record at this stage was 2010-11 (15 goals), though they had one more point (21) than they do now, with 20 the fewest City have accumulated by this stage since 13 in 2008-09.
Obviously, you need to shoot to score, so it makes sense that City are having fewer shots than before as well – they've tried their luck 194 times this term, a decrease from 258 at this point in 2019-20. Their previous low in this respect under Guardiola was 206 after 12 games in 2017-18, but their conversion rate was off the charts at 19.4 per cent.
The closest City have got to that in any other season with Guardiola was 14.6 per cent the following year – this term it is just 9.3 per cent. It's the only campaign under the Catalan coach in which their conversion rate is below 13 per cent after 12 games.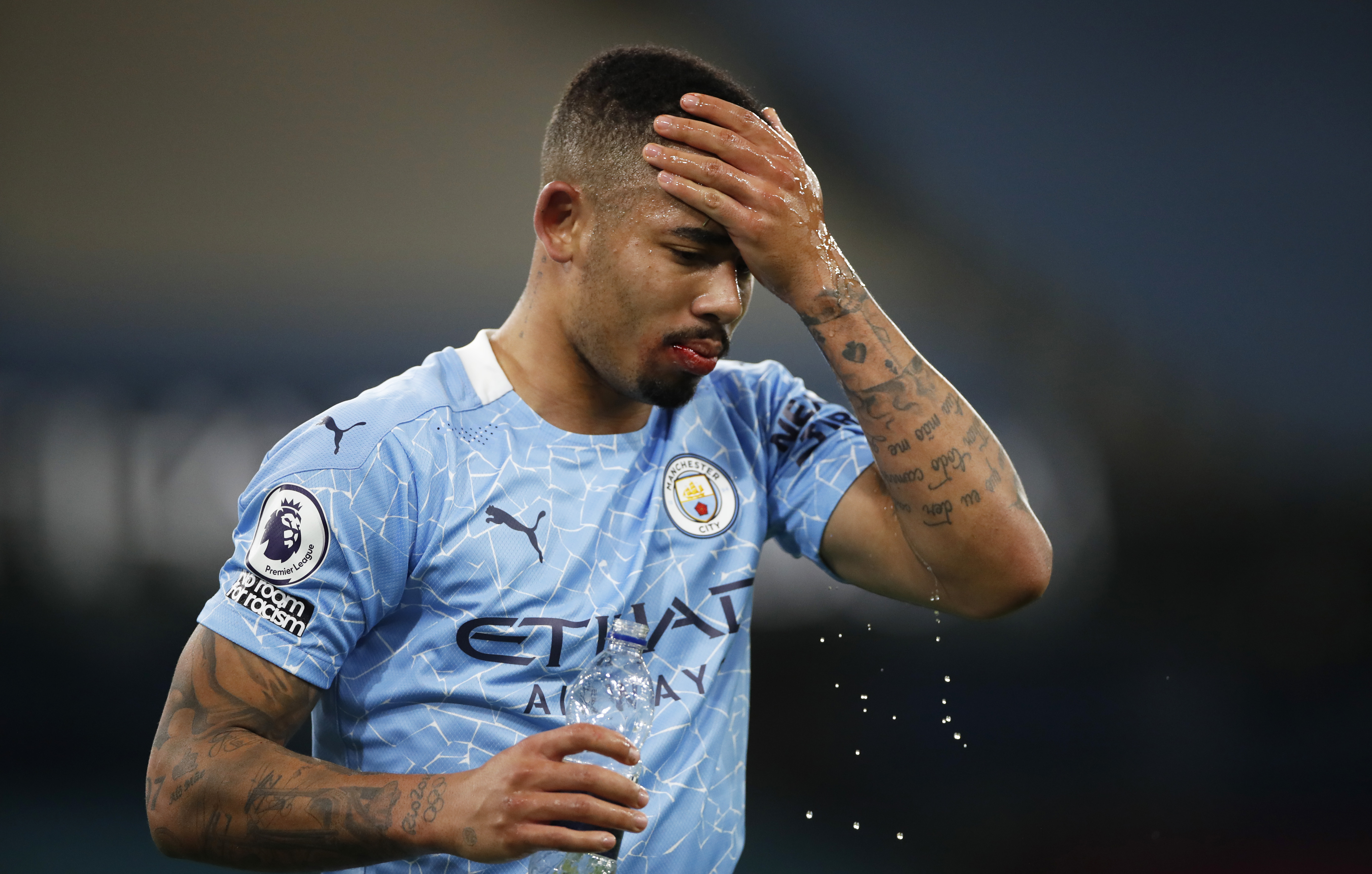 NO LONGER INTIMIDATING
The intimidating aura City have had under Guardiola appears to have vanished, their one-paced performances against United and the Baggies evidence of that.
Last season City won 12 matches across all competitions by at least a four-goal margin, yet, as we approach the halfway mark this term, they have done so just twice.
One of those was, of course, against Burnley at the end of last month – though one might argue this doesn't say much about City given that was the fourth time in a little over two years they have beaten the Clarets 5-0.
But City's goalscoring issues can be further amplified beyond just looking at how often they're scoring, and once again it makes for unpleasant viewing for Guardiola.
Compared to his previous four seasons in charge, City's touches in the opposing box have come down to 32.4 per game (it was 42.6 in 2019-20) and that understandably has a knock-on effect.
In every season under Guardiola before 2020-21, City have improved their goalscoring chance quality (excluding penalties) before a massive regression this term. In 2019-20, their non-penalty xG (expected goals) per game was 2.25 – it is now just 1.38.
Even accounting for those excluded penalties, there is still a huge drop-off from 2.48 to 1.57 per game.
Their average non-penalty shot xG rating is 0.087, meaning one would expect the 'average' player to score 8.7 per cent of the time – again, this is a significant drop from 11.6 per cent in 2019-20.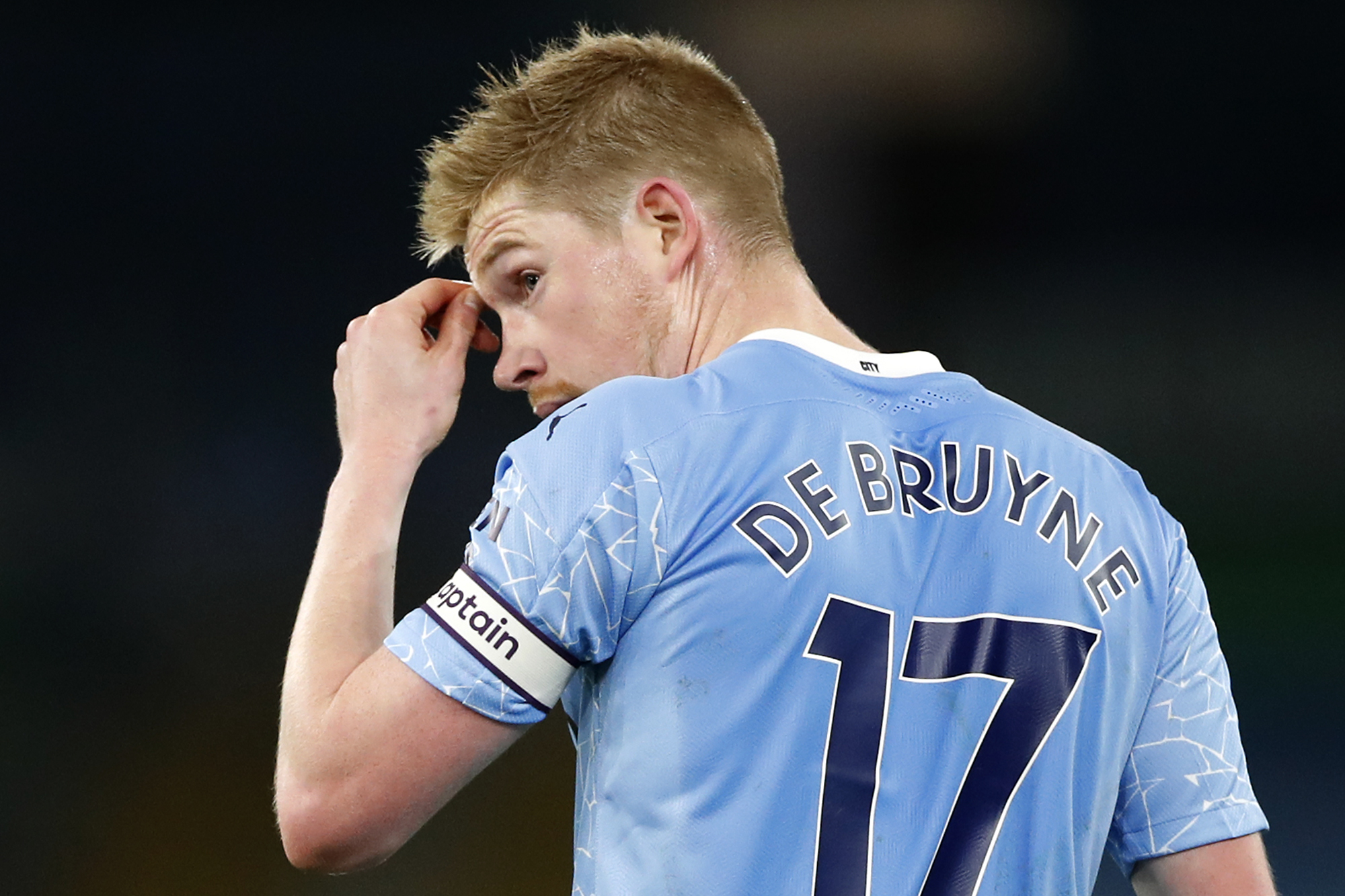 DE BRUYNE OR BUST
Given City's issues in front of goal seemingly coincide with Sergio Aguero's absences, it might seem logical to link the two, but Opta data shows City's record with and without him since August 2011 is very similar.
In Aguero's 266 Premier League appearances, City have averaged 2.2 points and 2.3 goals per game – those figures remain identical for the 88 matches he has missed, while the team's win percentage actually goes up to 69.3 from 66.9.
As City's underwhelming xG data suggests, their problem has been chance creation, which again leads us back to the suggestion that – in hindsight – perhaps they would have been better off adding further reinforcements to their frontline.
Kevin De Bruyne has of course remained a dependable star, as evidenced by his 10 assists in 15 appearances across all competitions – he is well on track to surpass his 22 from 48 games last term.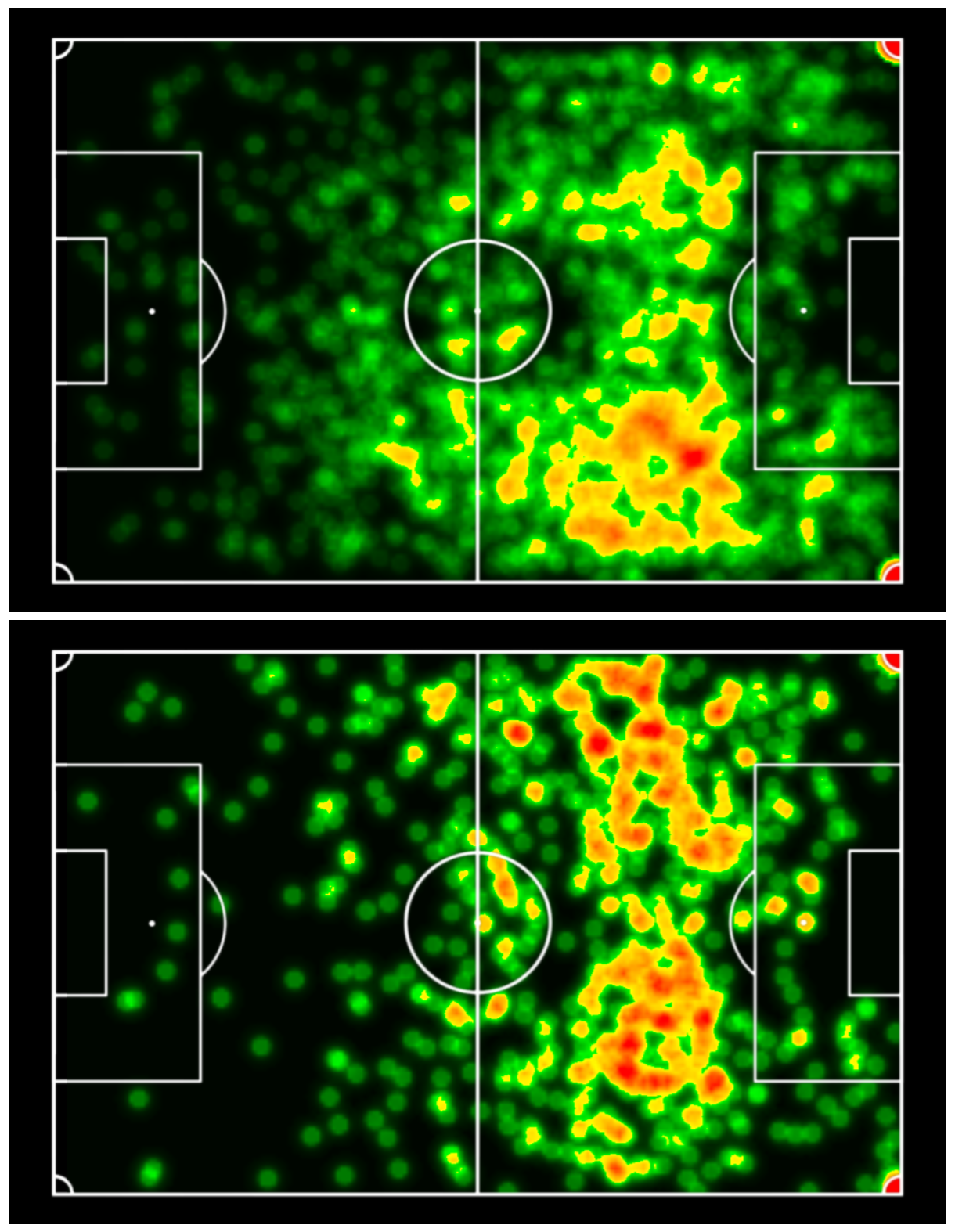 But the Belgian does appear to be playing a different role. Whether this is to compensate for David Silva's exit or for other attack-minded players' productivity decreasing, it is unclear, but his season heatmaps show De Bruyne is operating almost equally across the breadth of the final third – in 2019-20, he was at his most influential towards the right flank.
His creativity has suffered, though he is still playing 3.51 key passes per 90 minutes in the league (4.51 in 2019-20). It's in front of goal where his influence has decreased the most, however, as De Bruyne has scored only twice all season, or once every 591 minutes, and both have been penalties. His frequency was once every 239 minutes last season across all competitions.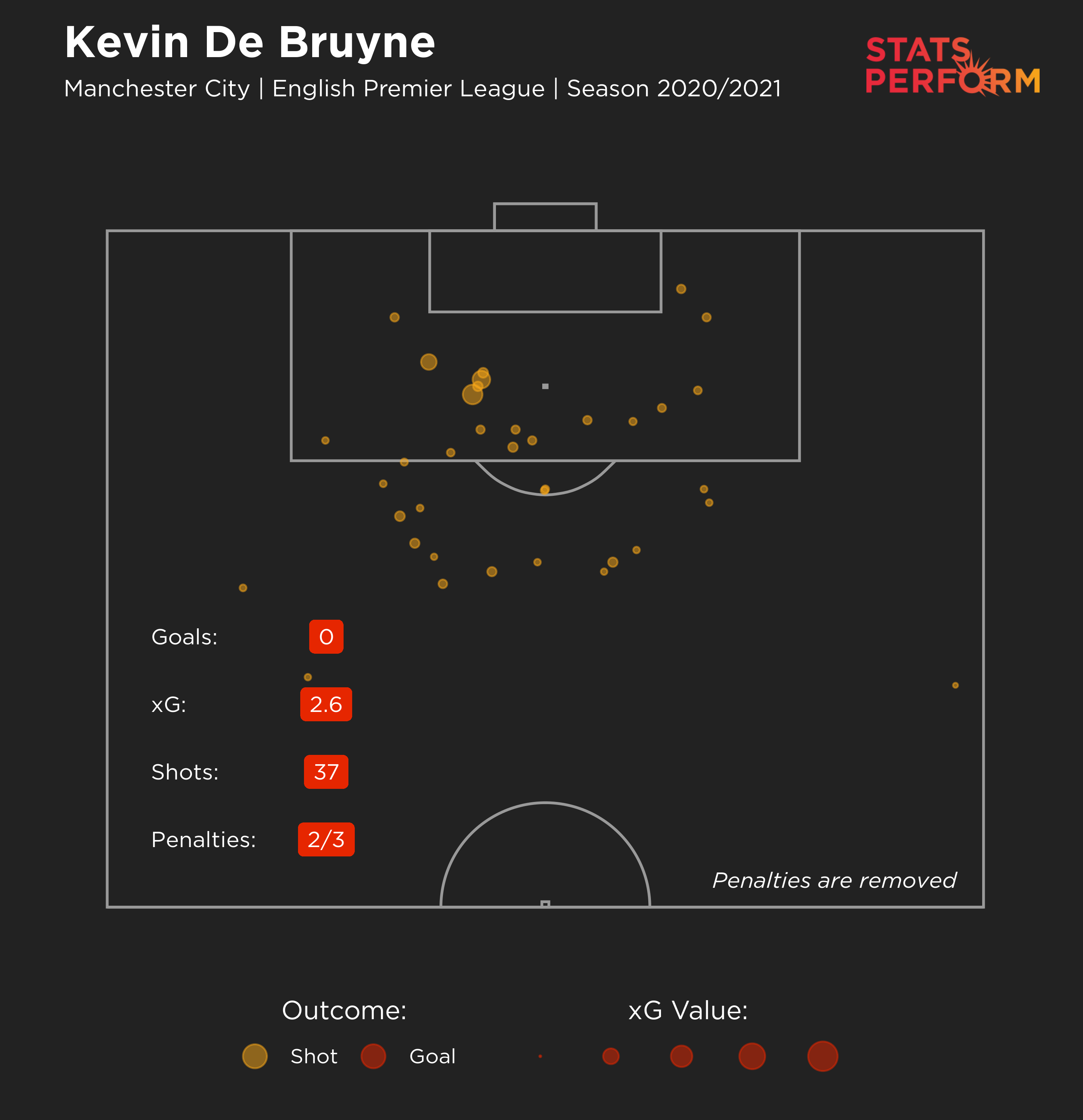 The problem for City is that, although De Bruyne continues to carry the burden, other players expected to create in the final third are struggling.
Bernardo Silva (0.24 from 2.26), Phil Foden (1.07 from 1.82), Raheem Sterling (1.38 from 1.62) are all playing fewer key passes per game than last term, while new signing Ferran Torres (1.07) – although clearly a talented player – has not been able to pick up the slack left by David Silva's departure (2.41).
The only player who seems to have remained consistent is arguably the most-maligned among City's forwards – Riyad Mahrez. He plays 2.76 key passes on average per 90 minutes – it was 2.78 in 2019-20.
Given Aguero's quality in front of goal, it seems unlikely he wouldn't at the very least lead to a marginal improvement when he returns for good, but if one thing is clear, it's that City's creators have to get craftier.